Suppose you have some awesome analytics tool that provides great value to a bank's customer, but they need to interact with it through the bank's website, and you need to host the tool.
You already have the data you need for the analytics to work, and the only missing piece you're left to consider is "how do I know to whom to show which data?"
The data is private, so you need to ensure you're not showing it to someone who's not authorized to see it.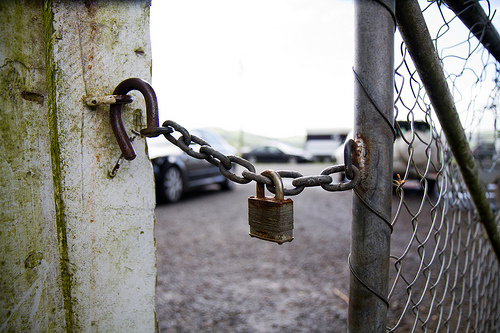 Photo by pbkwee
Some more constraints:
You don't want to generate thousands of usernames and passwords that would create more burden for the users (and force them to log in twice)
You can't hook into the bank's user system. (nor would you want to, since they'd still have to log in twice)
You want this to be reasonably simple for the bank to implement whatever they need to do to make it work on their end.
To show it on their site, you decide to create a template-less app that they'll embed in an iframe.
So what authorization mechanism do you use to know who should see which data?
One idea I had was to simply restrict which IP addresses (to those of the bank) the app would respond to. Then they could just request a page via HTTP and serve up our response. But in order to get that to work, there's too much that needs to be done: we have to coordinate all URLs with whatever the bank decides they should be, and they have to figure out whether to GET, POST, PUT, etc. back to us.
The next idea was to have a single page that is restricted by IP address (to those of the bank), where they will make an HTTP request to receive a token that expires after some length of time (or at the bank's request, if they hit another URL to invalidate the token). The bank includes the token in the iframe src URL which lets you know whose data to show.
But I'm really interested in hearing your thoughts.
How would you do it?
Is there a standard way of doing this already?
Hey! Why don't you make your life easier and subscribe to the full post or short blurb RSS feed? I'm so confident you'll love my smelly pasta plate wisdom that I'm offering a no-strings-attached, lifetime money back guarantee!